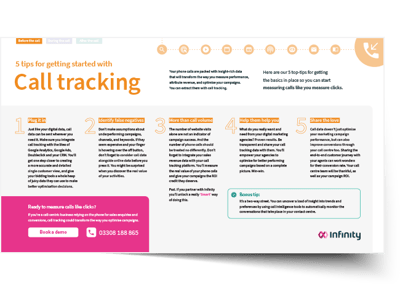 If you're getting started with call tracking, this cheat sheet is packed with useful tips that will help you start driving instant value.
From understanding how to use your call data to make data-driven decisions around campaign optimisation, to getting to grips with the activities that drive the most value – we cover it all.
Stop making assumptions about underperforming campaigns and start getting the full picture with call tracking. Clicks are important, but the calls you generate off the back of your campaigns are equally as important. With call tracking, you have full visibility over the entire customer journey. Get granular insights into which keywords, campaigns, and channels are driving your best results.
In this cheat sheet, we talk about:
Powering campaign optimisation by integrating call tracking with the likes of GA4, Google Ads, and your CRM
Getting to grips with the real value of your campaigns by gaining a holistic view of the entire customer journey
Feeding the intel gained from your call data into your sales team so they can maximise conversions when customers pick up the phone.
Looking at online data alone doesn't paint an accurate picture if you're a call-centric business relying on phone calls for sales.
You need full visibility over what is and isn't generating the best results to optimise campaigns.
There's a ton of insight trapped in call data that helps sales teams get more sales over the line – don't ignore it!