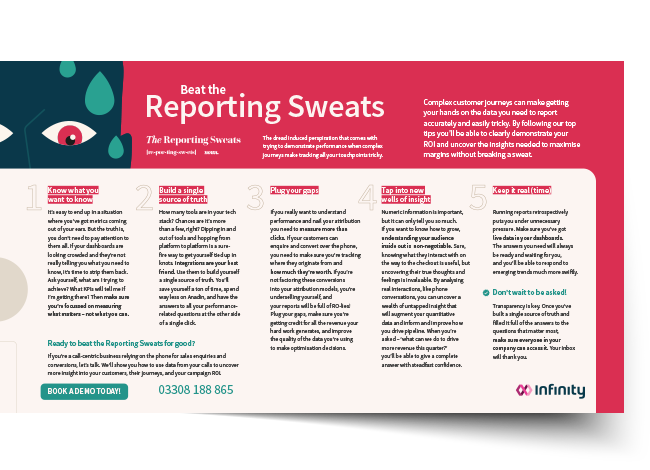 Do you get those dread-induced sweats when your marketing reporting is due?
Do you struggle to get your hands on the data and intel you need to nail attribution and demonstrate ROI? It's no wonder when marketers are increasingly dealing with more complex customer journeys. Add offline conversions into the mix, and it gets even tricker…
Luckily, we're here to make the "Reporting Sweats" a thing of the past! This handy cheat sheet is packed with tips and tricks that will help you get your marketing reporting done in a flash – without breaking a sweat.
In this cheat sheet, we talk about:
Focusing on measuring what matters most instead of reporting on everything and anything
Building a single source of truth so you know your data will paint a clear picture
Using qualitative data and quantitative data to demonstrate the value of your campaigns
Understanding customer journeys is the first step in understanding what you need to do to optimise activities.
There are a ton of insights trapped in your call data that you can leverage to drive better performance – don't ignore it!
Failing to track conversions across all customer touchpoints stops you getting the credit you deserve for the leads your hard work generates.