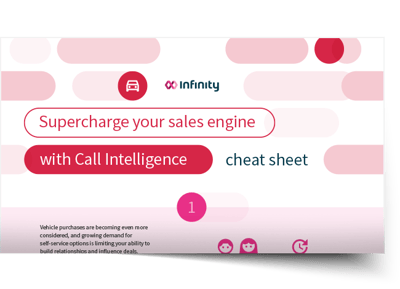 Are you ready to supercharge your sales engine with call intelligence?
When a customer picks up the phone, their intent is sky high. But, if your agents aren't asking the right questions and delivering the best service when the call connects, your call-to-appointment ratio is going to plummet.
Call intelligence enables you to get under the hood of what happens on every call your agents make and take. That means you can easily pick up on when the right questions aren't being asked, and quickly put training in place to make sure your agents get every caller into your showroom while keeping compliance front of mind.
In this cheat sheet, we talk about:
Gaining visibility over the customer journey so agents can easily identify upsell opportunities
Spotting when agents aren't asking the right questions and using that as a basis for tailored training
Making sure your agents deliver experiences that give callers the confidence they need to pay a reservation fee
Understanding the journey your customers take before picking up the phone is key in identifying upsell opportunities.
Get into the mechanics of what drives the most positive outcomes on calls and use that as a basis for training.
Quality training means your agents will deliver better service, stick to compliance procedures, and drive more sales.