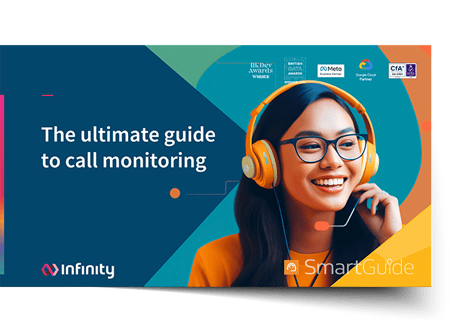 How many calls do you monitor every month? 6 per agent? Maybe 16? The likelihood is, those calls won't paint the full picture of the customer experience you're delivering.
Regardless of your sector, if you don't offer the right level of service, customers will vote with their feet.
This ultimate guide to call monitoring will help you understand how you can leverage the insights trapped in every call – not just the ones you have a chance to listen to.
After reading this Smart Guide, you'll know:
Why you can't rely on traditional call monitoring methods to guarantee complete compliance
Why it's important/vital to have clarity on what happens on every single call
How to leverage call data to deliver seamless and impressive customer experiences
Manual call monitoring methods don't give you the visibility you need to ensure your team are remaining compliant on every single call.
Call monitoring doesn't have to be a time-consuming task that offers no actionable insight – there are powerful solutions out there.
Find out how you can make massive improvements in agent training by leveraging call data to nail the customer experience.
Struggling to get to grips with what happens on every call?
How do you know if you're delivering the best possible experiences, or if agents are hitting the mark from a compliance perspective?
Every contact centre needs powerful call monitoring capabilities that shine a light on every call you make and receive. The end result? Quickly spot what's working, do more of that, and make poor agent performance a thing of the past.